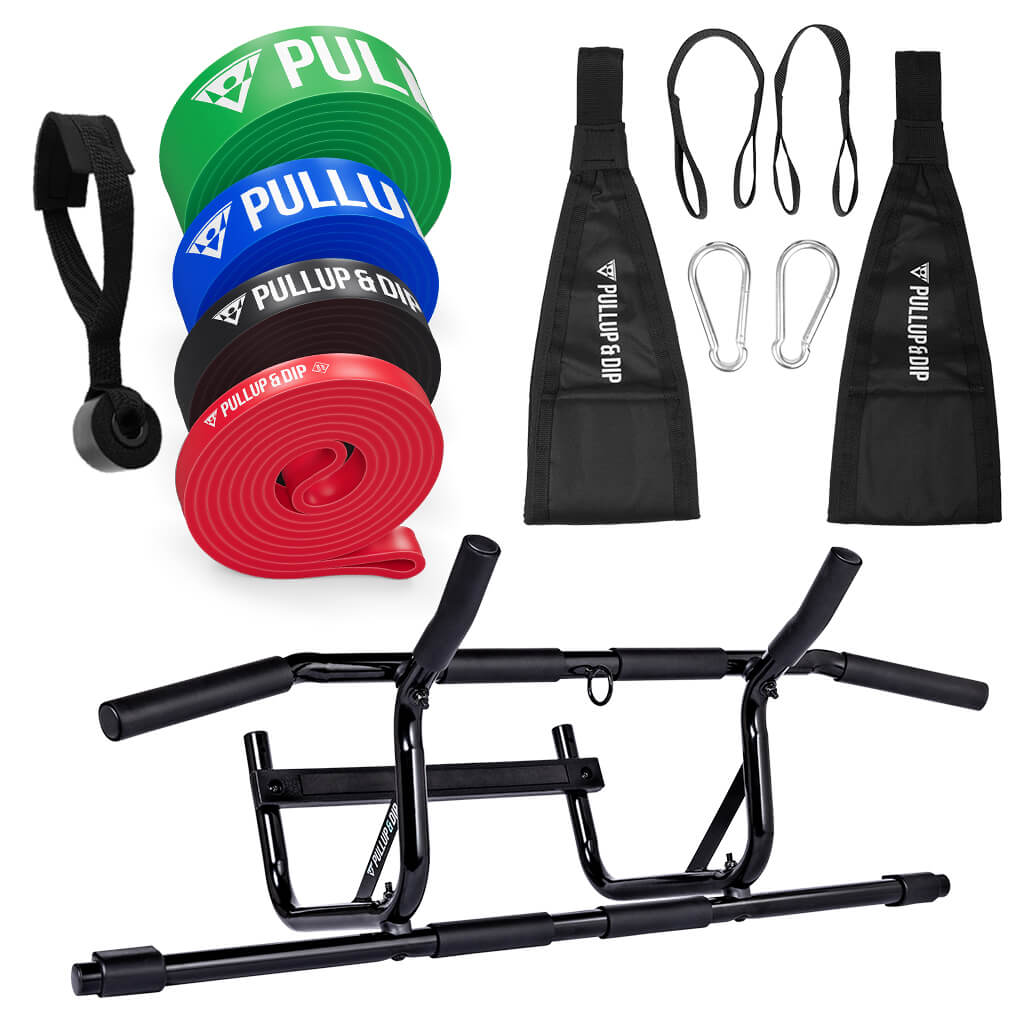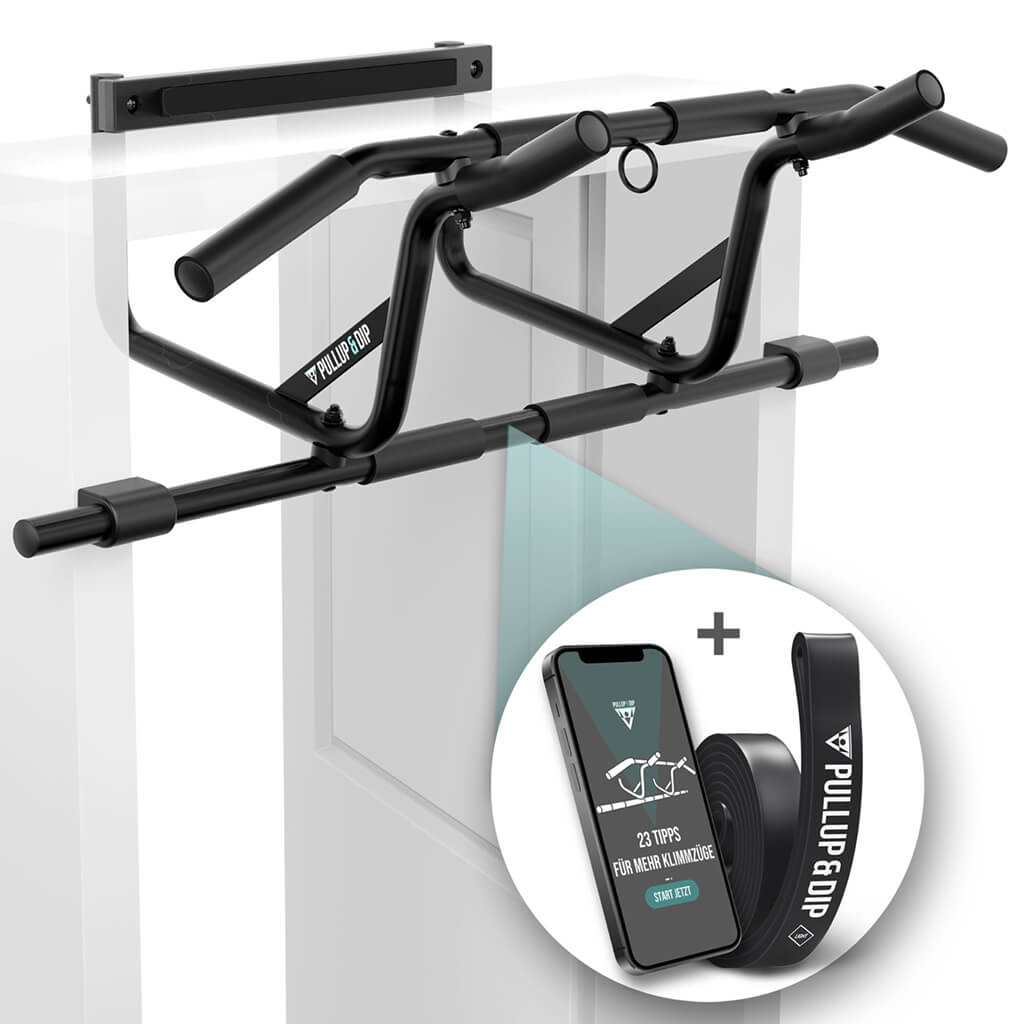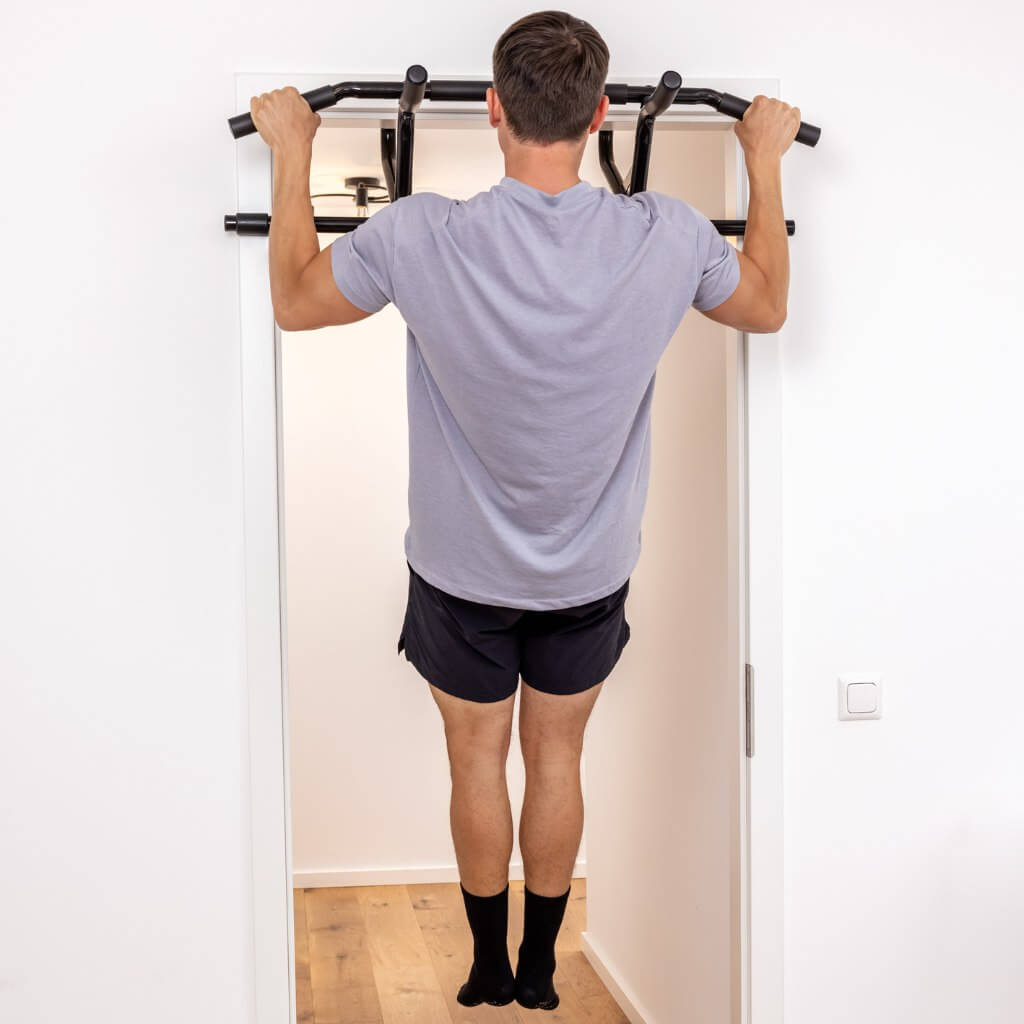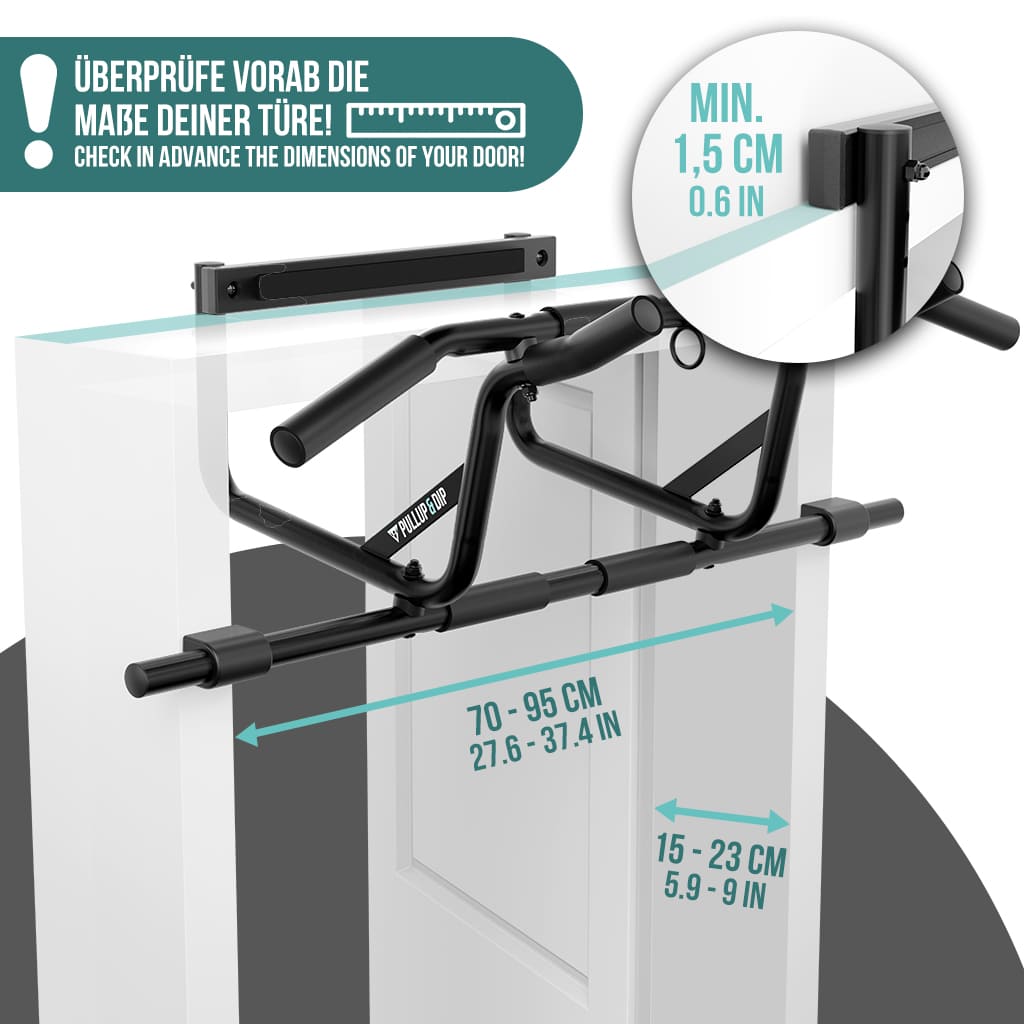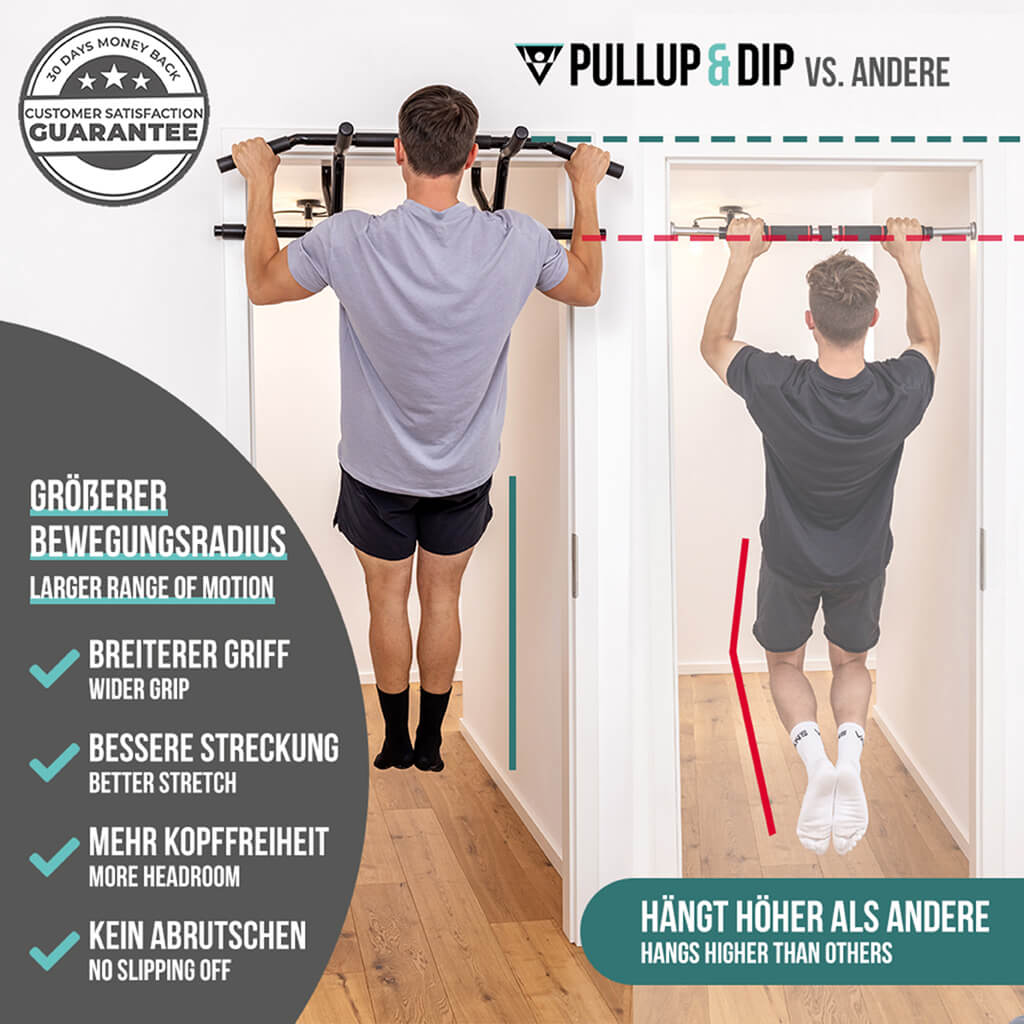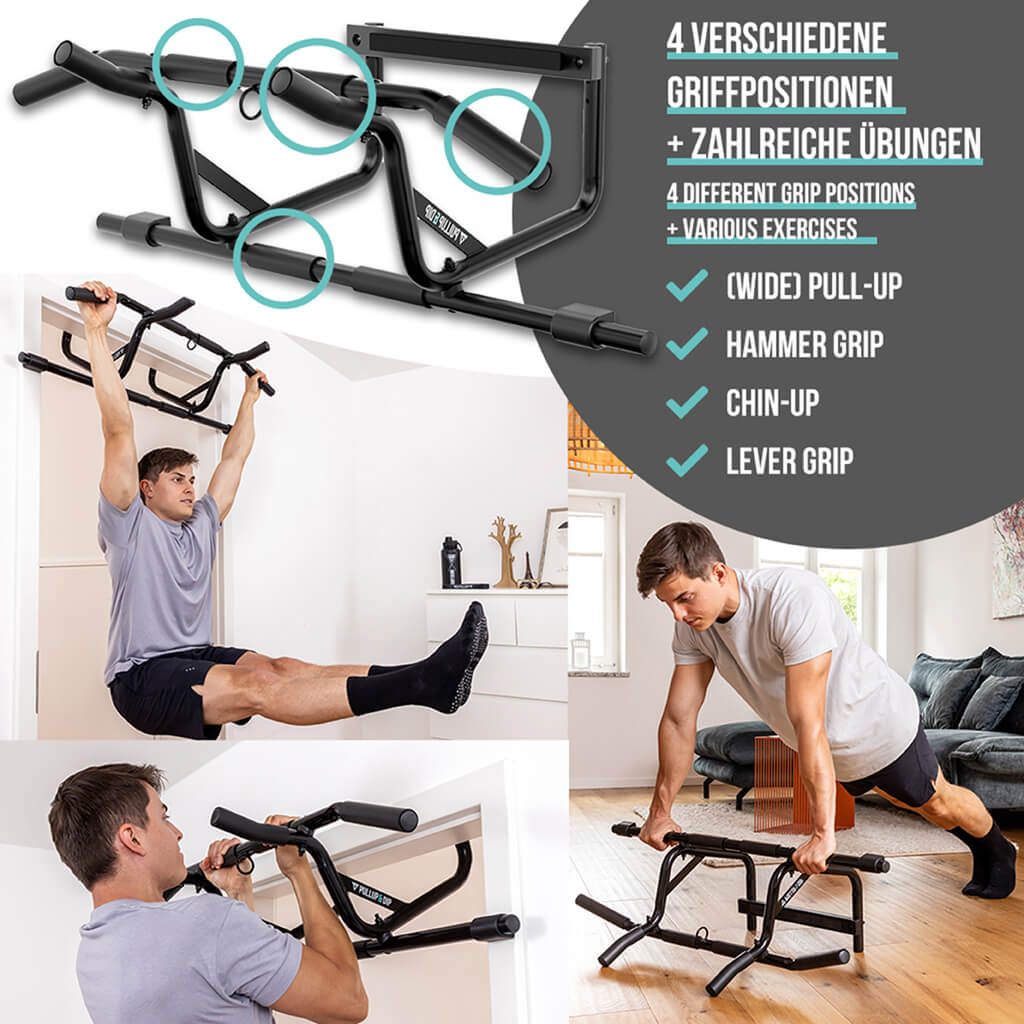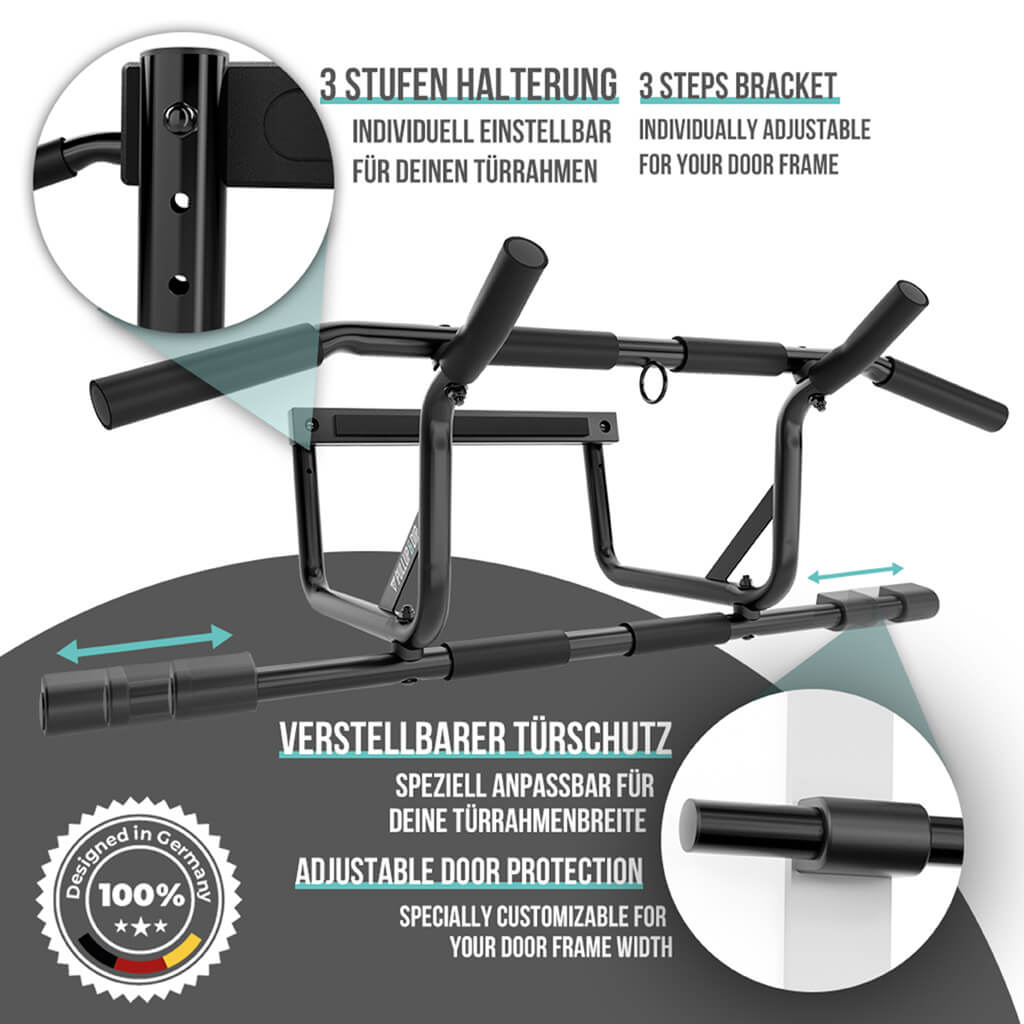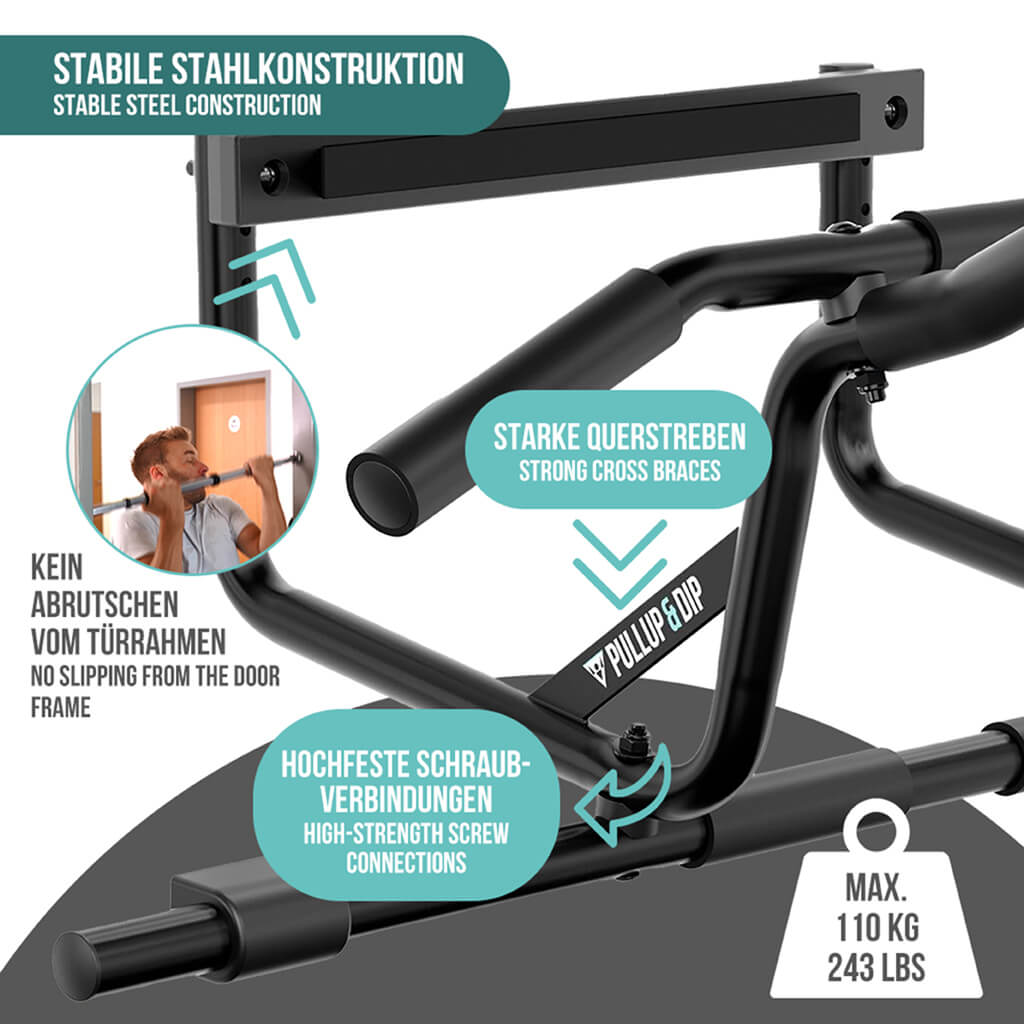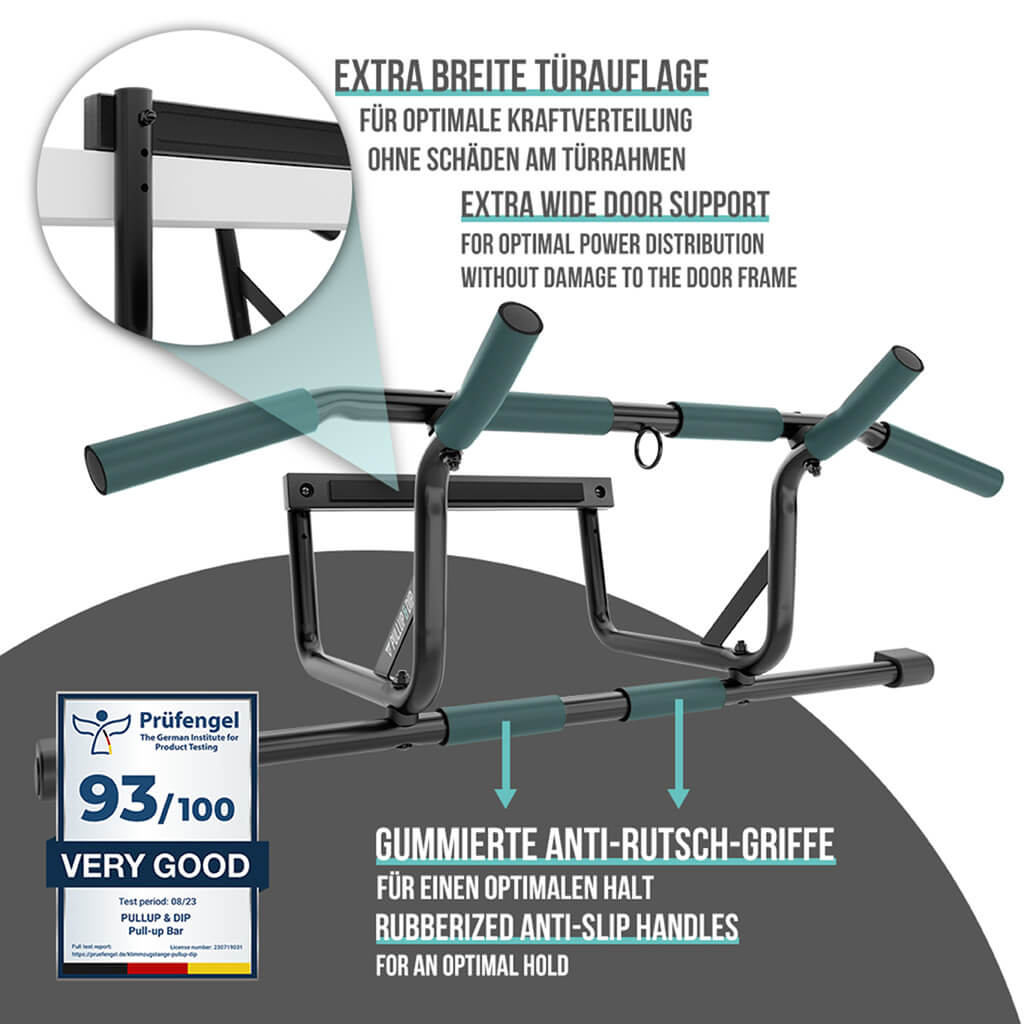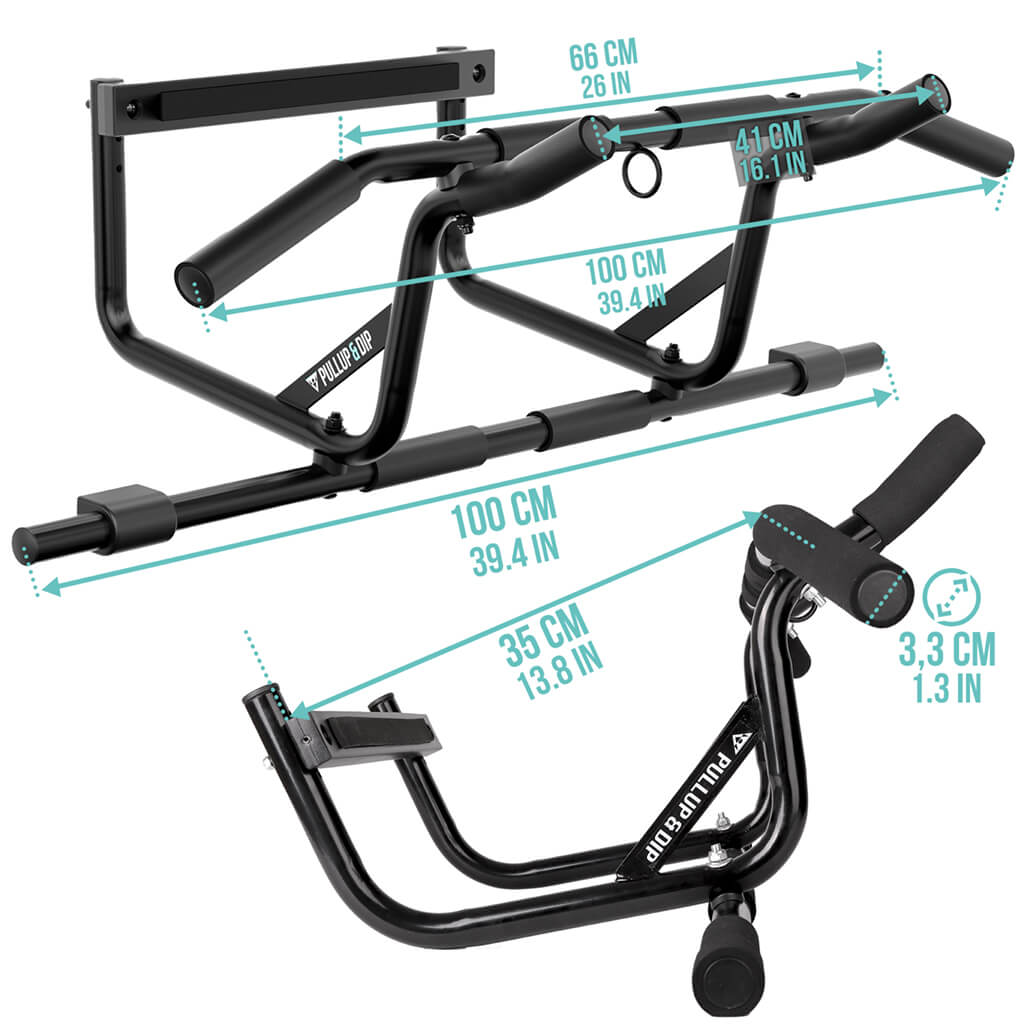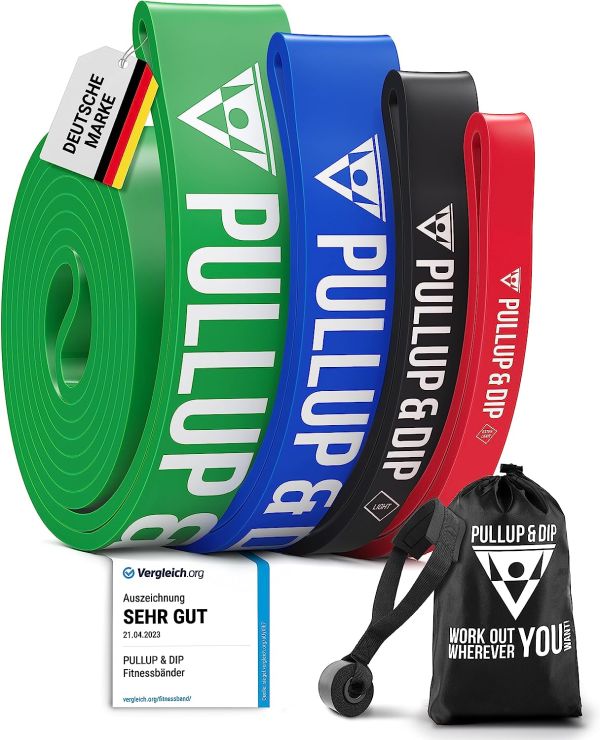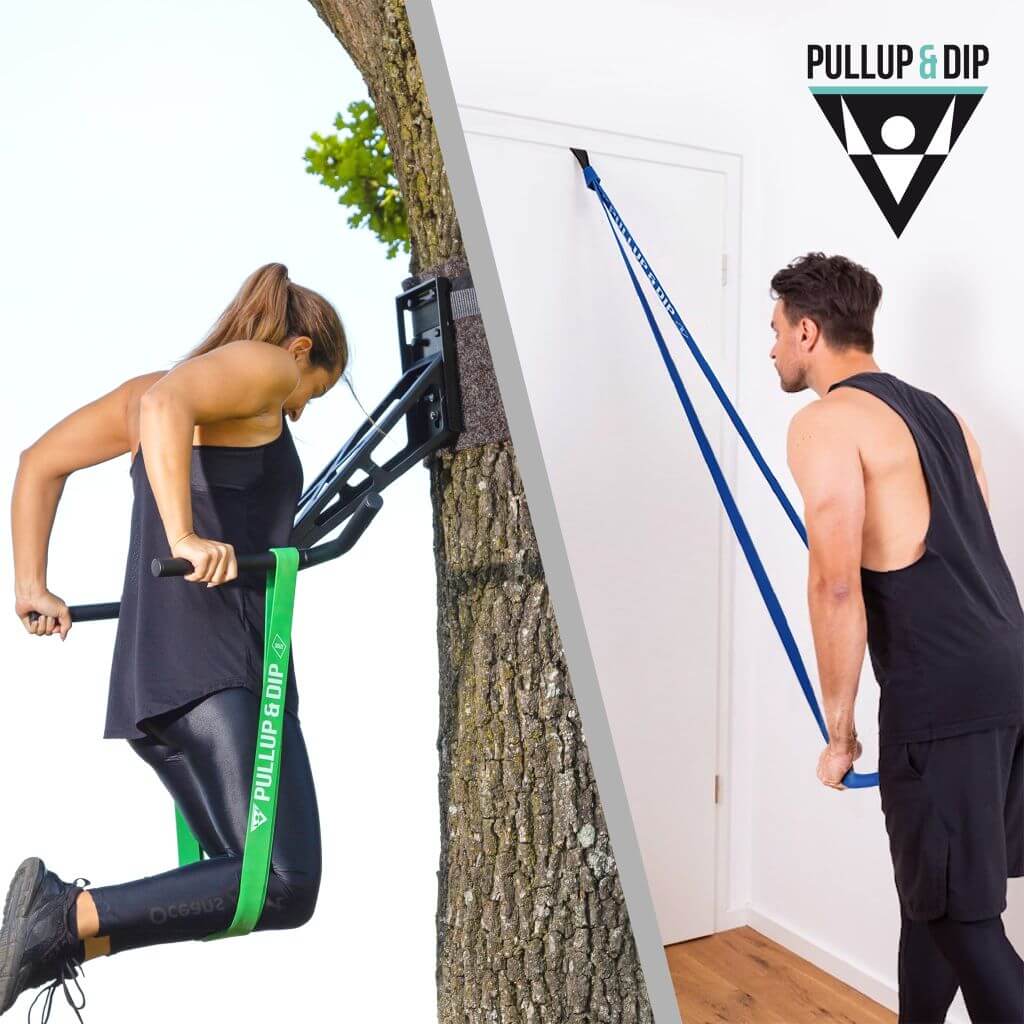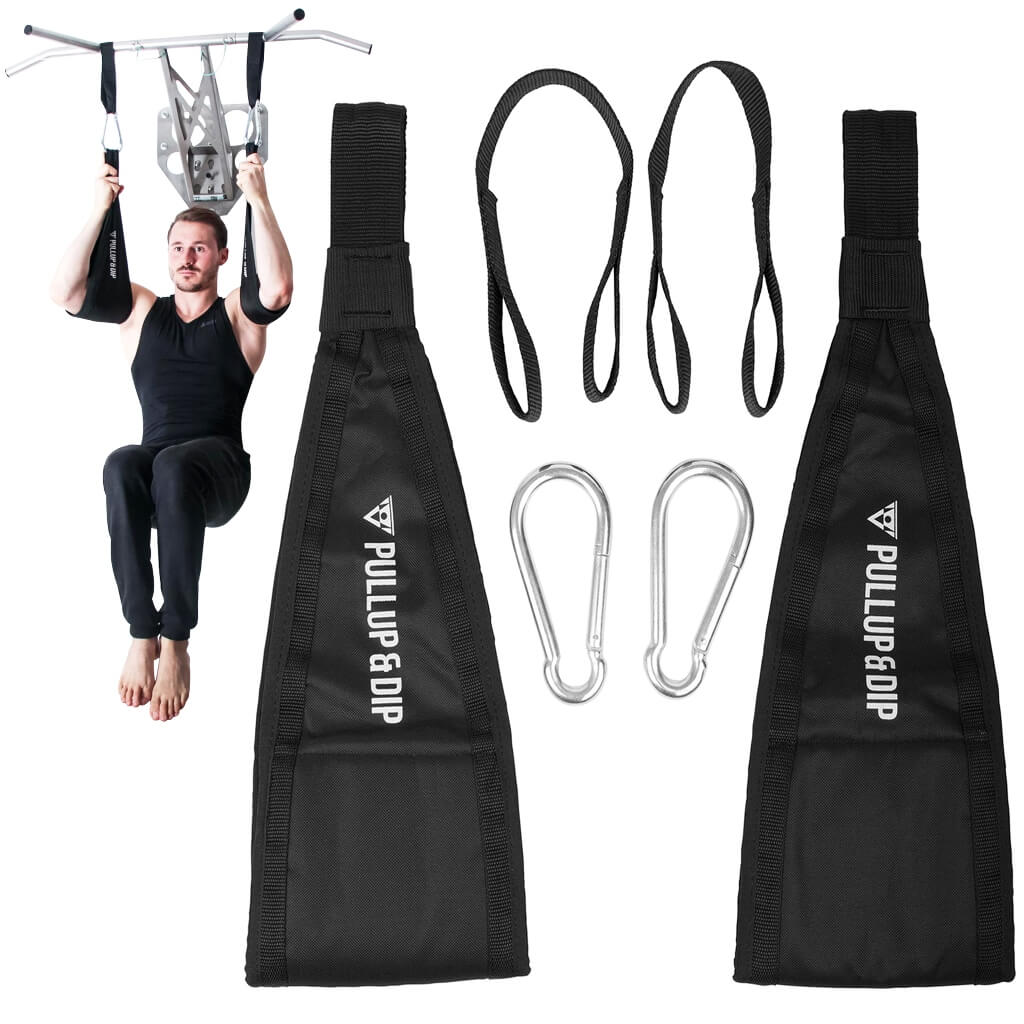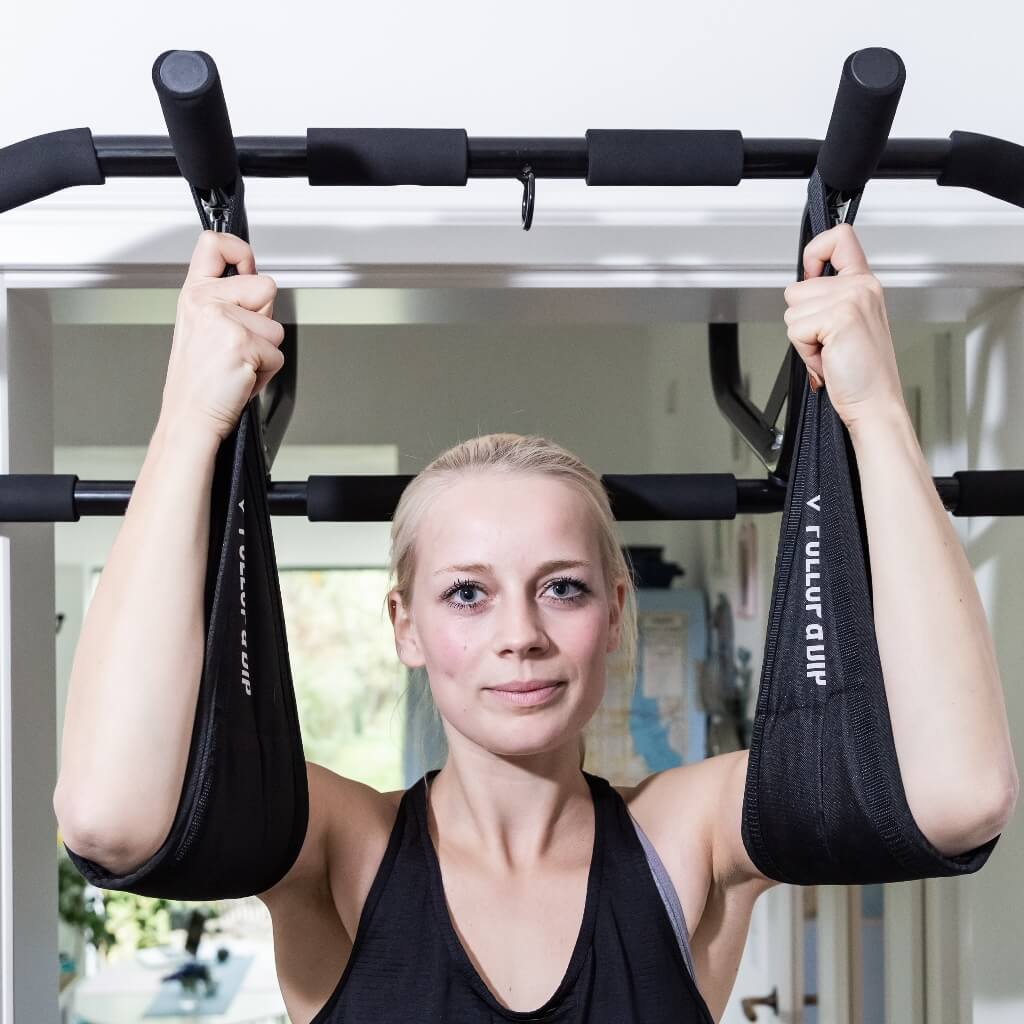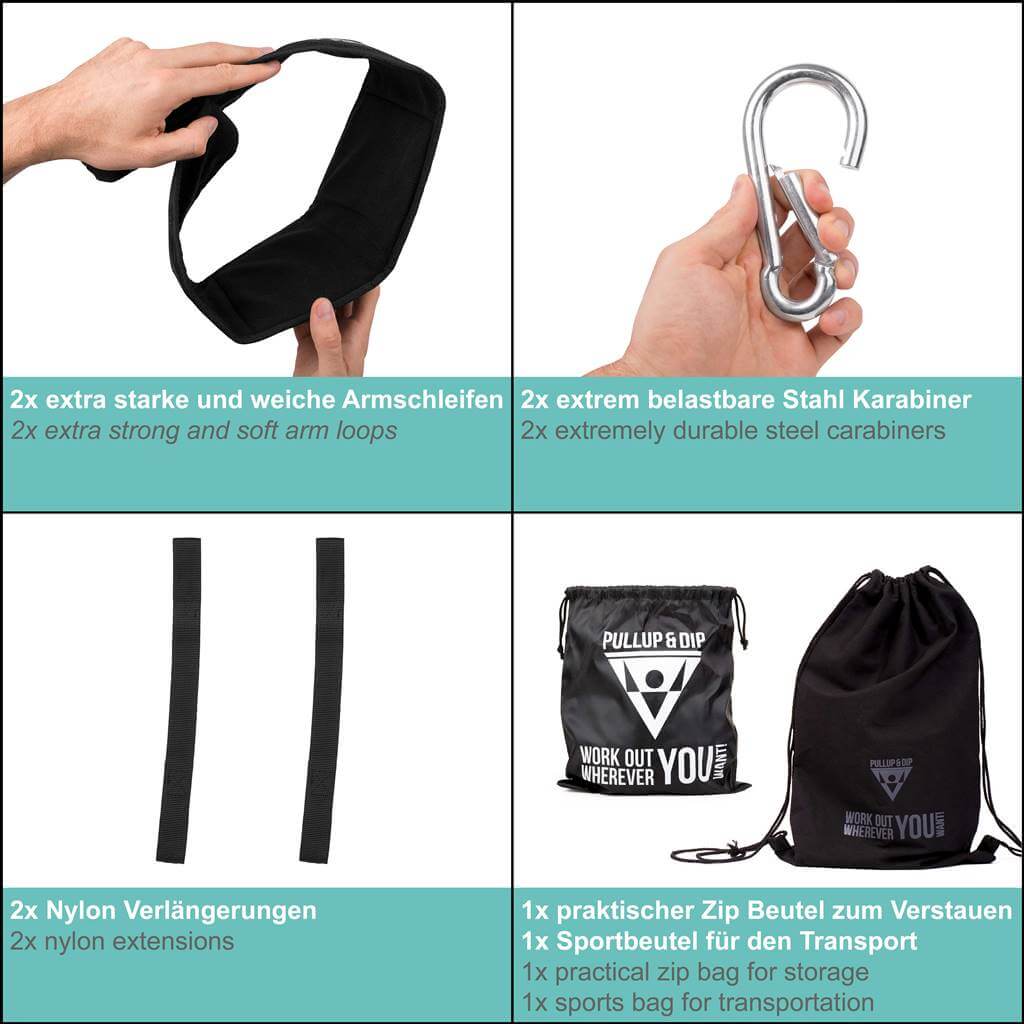 SKU:

P-PULLUPBAR-SET
Pull-up Bar Set: Door Pull-up Bar + Pull-up Straps Set of 4 + Ab Straps
The perfect set for getting started with pull-up training – Save 17% in the set!
Produkt-Vorteile im Überblick
Door pull-up bar for hanging without slipping off
Pull-up bands/resistance bands set of 4 incl. door anchor
Ab training straps for effective ab training
Order now in a set and save big!
In stock - Your order will be with you in 3-4 business days!
30 Tage Rückgabe & gratis Rückversand
Pull-up Bar Set Consisting of a Door Pull-up Bar, a Pull-up Straps Set of 4, and Ab Straps
You want to become a pull-up professional or learn your first pull-ups? Then our pull-up bar set is just right for you! The door pull-up bar is the perfect starter product, which you can easily hang in the door frame and train pull-ups at home – without any drilling. All without slipping, as is the case with telescopic bars.
The pull-up bands support you during pull-ups, so you can learn your first pull-up, increase steadily, and will need less and less support. Additionally, they are perfect as a replacement for dumbbells or weights and offer you over 30 different full-body exercises as resistance bands.
By using the ab training straps, you can fully concentrate on your ab training on the pull-up bar, as you won't run out of grip strengthand can thus get one or two more repetitions out of it. The goal of a toned abdomen is no longer an obstacle … so get to the pull-up bar! ;-)
Set Consisting of:
P

roduct Advantages:
Door Pull-up Bar

✔️ Assembly in seconds and no slipping: The pull-up bar is securely hung in the door frame within secondswithout screws and drilling and thus transforms your home into a home gym.
✔️ Fits almost all door frames: Thanks to the design, the pull-up bar fits almost all common door frames, so you will definitely find a suitable door for mounting at home.
✔️ No slipping: No dangerous slipping with risk of injury, as in the case of telescopic pull-up bars thanks to secure hanging in the door frame. The barcannot slip when loaded by the construction!
✔️ Numerous exercises: Train pull-ups with different grips (wide, tight, chin-up, parallel), leg raises, front levers, and many more exercises for a varied workout. You can also use it on the floor for push-ups or seated dips.
✔️ No damage to the door frame, thanks to protective pads/rubber end caps on all contact points.
✔️ High safety: Reinforced construction with cross braces and high-strength screw connections ensures maximum stability and a safe workout without wobbling or slipping.
✔️ Free eBook: After your order, we will also send you our popular eBook "23 Tips for More Pull-ups" as a PDF. This will help you learn your first pull-up, learn to do more pull-ups, and you are guaranteed to become a pull-up pro.
Pull-up Bands:
✔️ Fitter, stronger, more muscular, and more toned: Training with bands makes you fit and strong and builds muscles. There is no need for a gym or expensive dumbbells!
✔️ Support during workouts - The bands take some of the weight off you, so you can do morerepetitions and train the execution of the exercise.
✔️ Complete full-body workout - Ideal for exercises like pull-ups, dips, muscle-ups, front levers, and over 30 other exercises for a versatile workout.
✔️ Increase your strength & mobility -Also suitable as additional resistance during exercises such as push-ups, dips, squats, curls, bench presses, and other exercises.
✔️ Stowable & transportable – convenientlystows in your bag and can betaken anywhere – to the garden, the park, on vacation, or on other journeys.
✔️ Extremely durable - Premium quality made from 100 % natural latex. Extra tear resistant and very long-lasting with consistent resistance. The natural latex is also sustainable, biodegradable, free of critical ingredients, and odorless.
✔️ More than 30 exercises – incl. FREE eBook with more than 30 exercises that you can easily download via email.
Ab Training Straps
✔️ Full focus on ab training: The ab straps comfortably support your elbows and take the pressure off your shoulders and arms, so you canspecifically train your abs to get a six-pack.
✔️ Four length adjustments and easy attachment: Thanks to the high-strength nylon extension loops and the steel safety carabiner
✔️ Versatile: The ab straps fit perfectly for any type of pull-up bar
✔️ Super comfortable and extremely resilient: The padded straps with soft lining are super comfortable to wear. Two metal safety carabiners and heavy-duty nylon straps provide maximum stability and a load capacity of up to 200 kg.

Not convinced yet? Then test our set now for 30 days without obligation. If for some reason, you don't like it, you can send it back easily, and we will refund you the full purchase price!
Product Details:
Door Pullupbar

Material: steel

Max. width of the pullup bar: 100 cm (39 in)

Load capacity: up to 110 kg (220 Ibs)

Door frame width: between 70 - 95 cm (28 - 37 in)

Doorframe depth: between 15 - 25 cm (6 - 10 in)

Weight: 4,2 kg (9 lbs)

Ab Training Straps

Max. length: 90 cm (35 in) (measured at longest possible setting)

Min. length: 50 cm (19 in)

Pullup Bands

EXTRA LIGHT (red): 4kg-12kg (9-26 lbs) resistance; length 104 cm (41 in), width 1,3 cm (0.5 in).

LIGHT (black): 7kg-24kg (15-53 lbs) resistance; length 104 cm (41 in), width 2,1 cm (0.8 in).

MEDIUM (blue): 16kg-36kg (35-80 lbs) resistance; length 104 cm (41 in), width 3,2 cm (1.2 in).

STRONG (green): 23-54kg (50-120 lbs) resistance; length 104 cm (41 in), width 4,5 cm (1.7 in).
Recommendation: We recommend measuring the width of the door frame and the depth of the door frame (see above) in advance to ensure that the pull-up bar fits in your door!
Fast worldwide shipping: Your order will be shipped within 24 hours. Fast shipping within Europe in 1-5 business days depending on the country of delivery. Free shipping within the US from $200 and within Germany from 50€! We ship from our two warehouses in Germany and the USA incl. tracking with guaranteed delivery!

Hassle-free returns: You are not fully satisfied? Just send it back within 30 days (free of charge within Germany and the USA).


100% Satisfaction Guarantee: We give you a 30 day money back guarantee if you are not fully satisfied! Don't love our products? Send them back.


Excellent customer service: Our helpful customer service is available to answer any question in English and German. That's why over 1,000 customers worldwide have already rated us with 5/5 stars on Trustpilot!


Over 500,000 satisfied customers: 98% customer satisfaction and over 500,000 satisfied customers in 70 countries worldwide already belong to the Pullup & Dip community.


Further questions about the product? Then just send us a message to service@pullup-dip.com or simply call: +49 89 215300-747
The exact shipping costs for your order and country you can calculate in the shopping cart with our shipping costs calculator. Simply add the products you are interested in into the cart and use the shipping costs calculator in the shopping cart.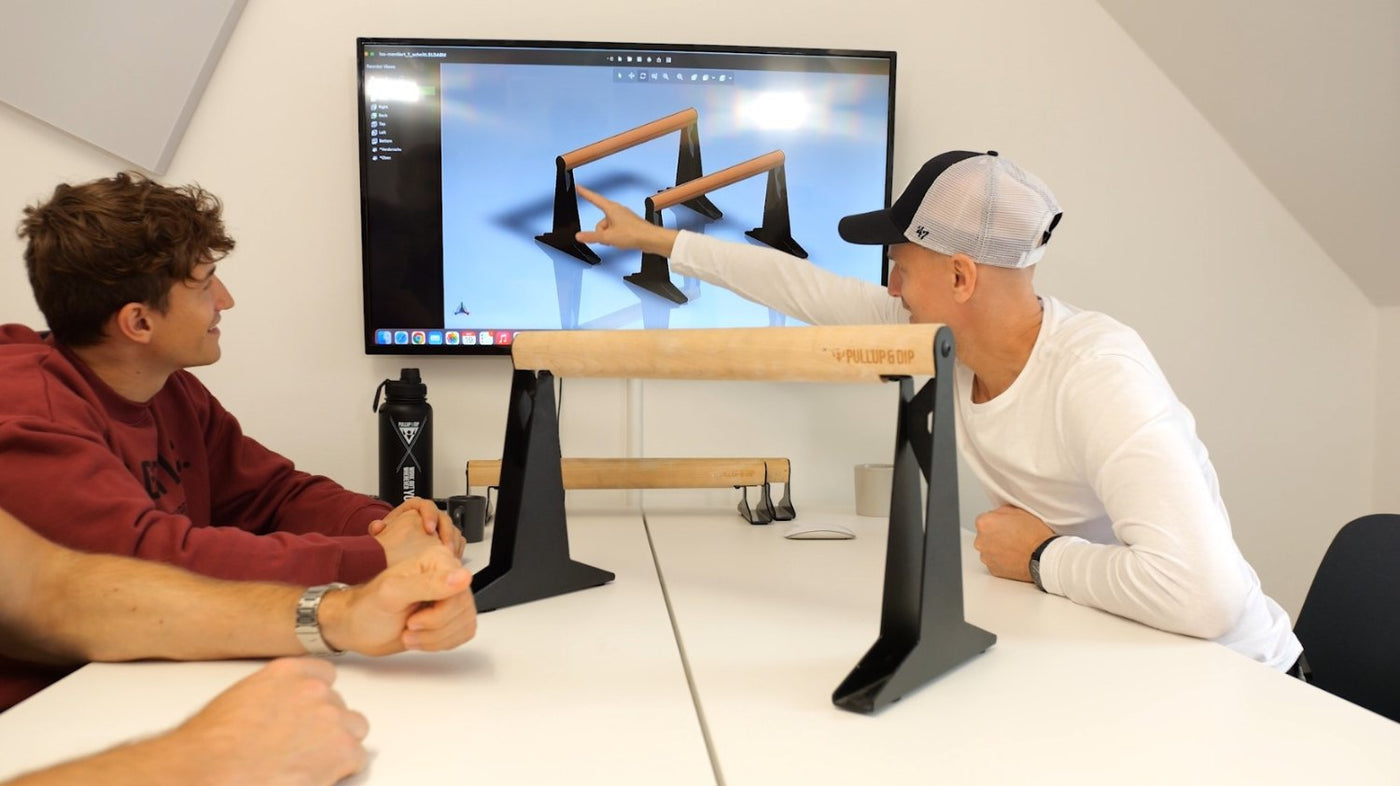 Innovative development & warranty
We are especially proud of our internal development, where we always try to develop the best quality and most durable products with unique benefits.
That's why you get up to five years product warranty on selected products.

Still unsure? Then test our products now without obligation for 30 days. If you don't like them, you can easily send them back and we will refund the purchase price!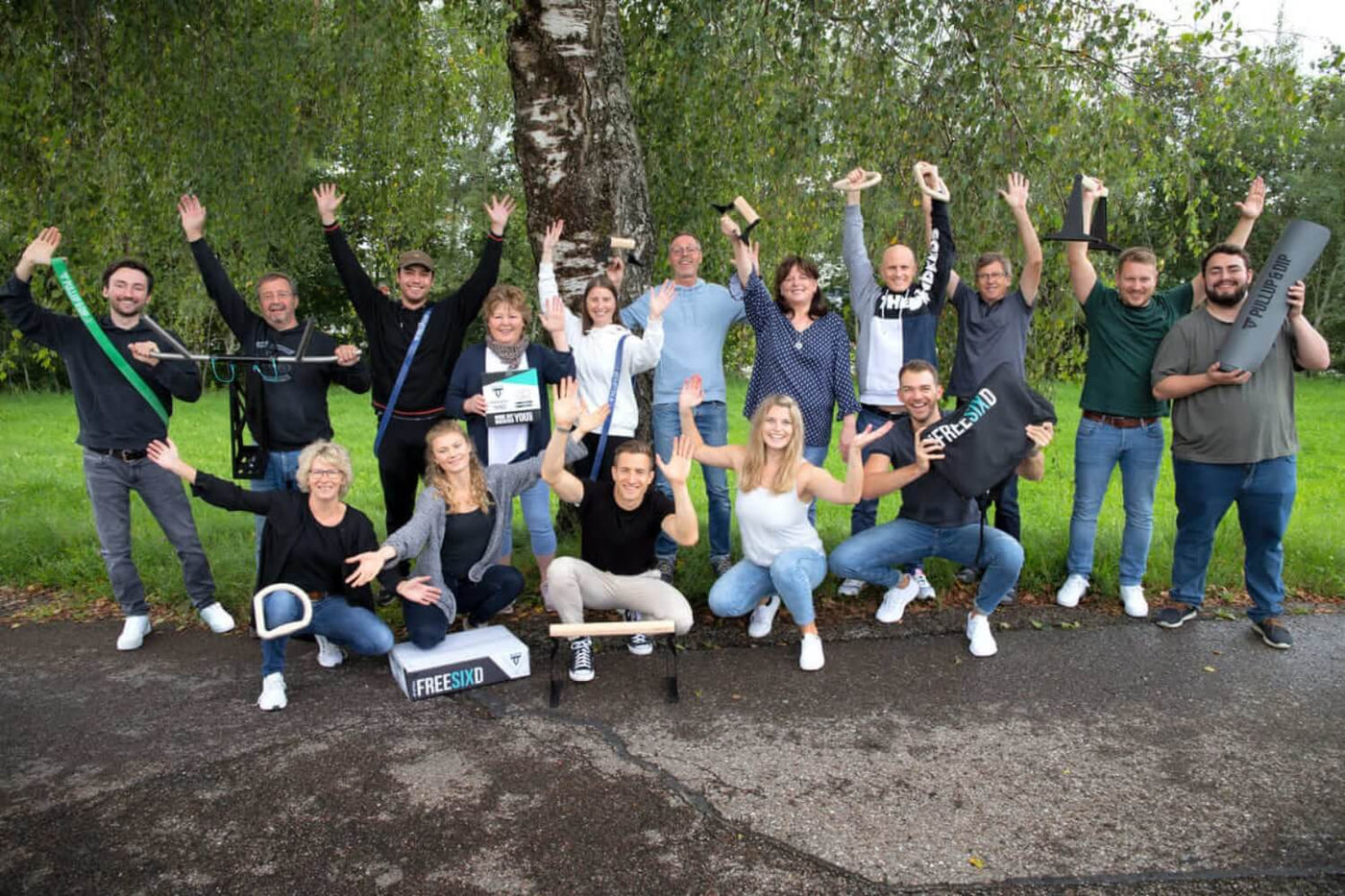 Support German Start-Up
We are Pullup & Dip. Since 2016 we develop and produce high-quality training accessories from the Allgäu and Munich. Our vision is to enable athletes all over the world to train 100% flexible and independent from the gym. At any place and at any time. True to our motto "Work out wherever you want!"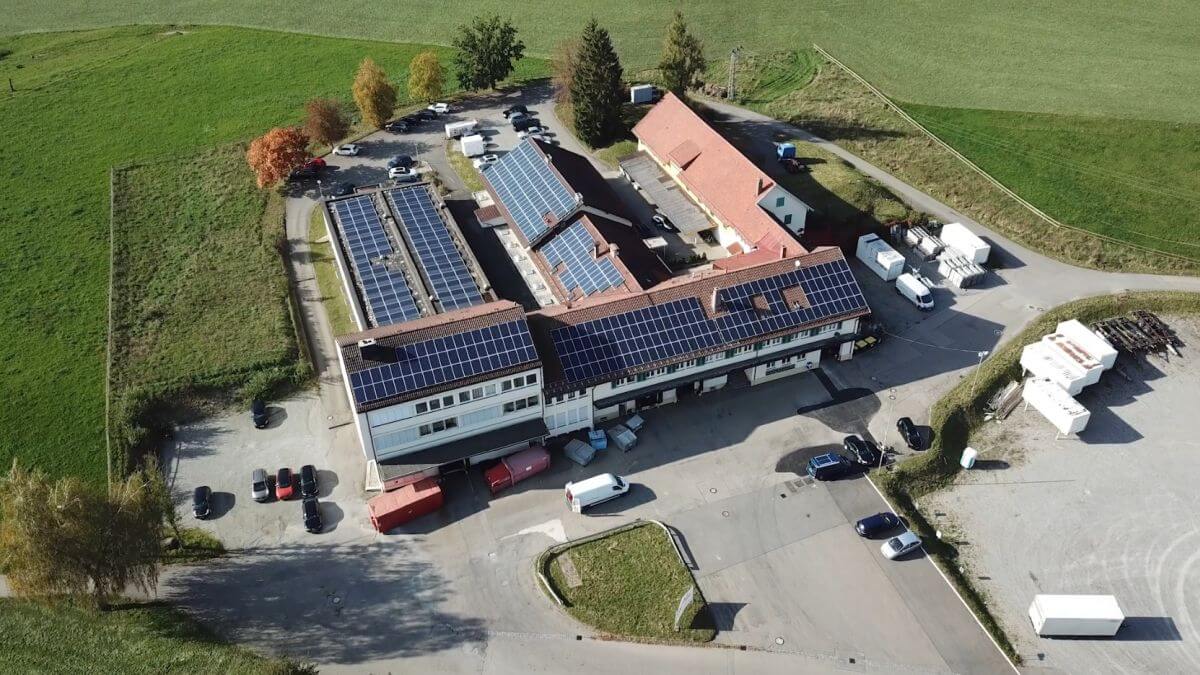 From Germany into the world
From our two warehouses in Germany in the Allgäu and in Salt Lake City in the USA, we have already supplied over 500,000 satisfied customers in 70 countries worldwide. The final assembly of some products also takes place here. We are especially proud of our fast worldwide shipping (free of charge from 50€ in Germany and from $200 within the US). Hardly ordered, your order is already with you.
0% Ausreden, 100% Resultate. Stärker, fitter, muskulöser. Bist Du bereit durchzustarten?